If you've signed up for a podcast and have enabled us to sell advertising on it, you can increase your revenue by adding breaks in the middle of your show - and have them appear at precisely the points you want them to, not randomly!
Also, if you use our AdRip tool, you can remove expired Host Read Ads (or other bits of content you don't want any more), and replace them with brand new Midroll ad spots if you wish. You can even set AdRips in advance - a timed self-destruct for Host Read that triggers automatically two or three months down the line when it's no longer useful.
You can add Midroll Points either:
during upload - use the add midroll adverts drop down at the bottom of the upload form
after upload - log in, go to the specific episode's clip page, click Edit at the top left, and select the Midroll Ads tab.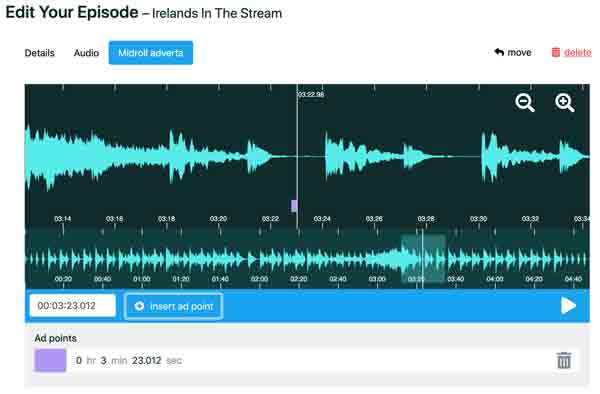 You'll see a screen like this.
Use the bottom section to quickly go through your show to where you want the Mid-Roll to be inserted...
...then use the top section to precisely place the cursor.
You can also use the text box to precisely enter or adjust the timing.
Click Insert Ad Point.
You can use this to insert as many ad points as you wish.
Once you've inserted them all, remember to SAVE CHANGES before continuing.
You can also go back and change, adjust or remove your Mid-Roll points at any time, simply by using the Edit function on a clip page and going to the Mid-Roll Ads tab.
Adding AdRip Points
AdRips need to be added after upload is completed.
The interface is similar to the Midroll tool, but with an inpoint and outpoint to set for each AdRip.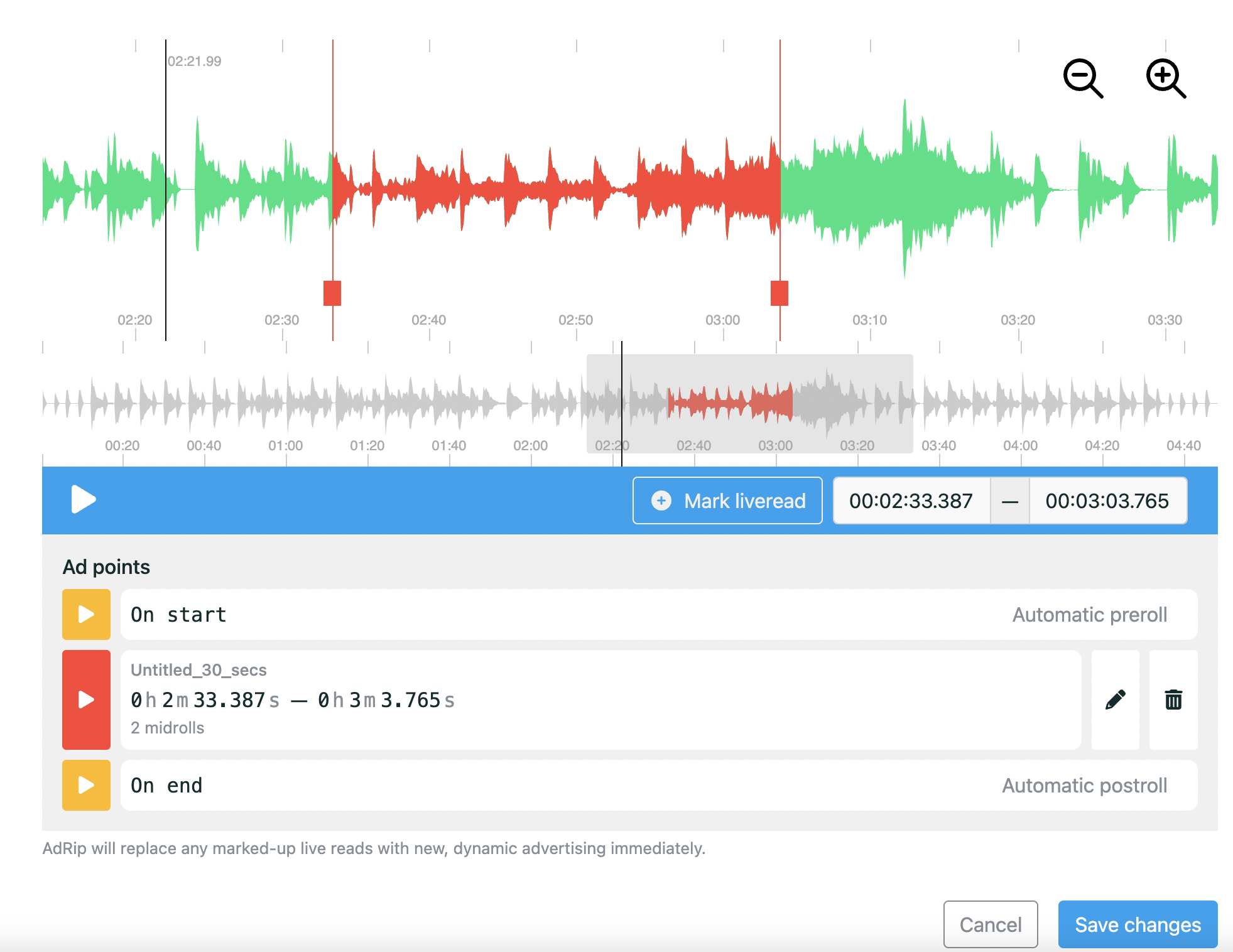 Firstly, find the section you'd like to remove.
Then, click and hold at that point, and drag across the entire section you want to remove.
The section should be highlighted and the in and out point times appear in the bar below.
You can adjust the position with the drag handles at the start and end of each clip, or adjust precisely by typing new points into the fields.
When you're happy, click Mark Livereads - and when you've finished, click Save Changes.
When the marked-up sections will be ripped depends on your ad configuration - exactly when will be shown at the bottom of the page.
For most users, the rip will occur immediately.
If you're using our Front/Back Catalogue configuration, the ad will expire when the Back Catalogue settings kick in. For example, if you have Back Catalogue set to 60 days, then the marked sections will be ripped 60 days after the clip was first uploaded.
(Please ask your Audioboom partner contact for more information about this advanced configuration.)
Note that you can change AdRips at any time - and every time you work with this tool, you'll be working with the originally uploaded file. So if ever you change your mind or need to tweak timings, you can go from fresh if you need to.
Some tips for using Midrolls and AdRips:
Find a space in your podcast where an inserted ad won't sound jarring - for example, in between "sections" of the podcast...
...and for preference, in the middle of roughly a second of silence. If setting an AdRip, try to edit quite tightly so there's clean silence at the start and end.
If adding ad slots "back to back", leave a fraction of a second of silence between the two insert points.
While you can add as many slots as you like, we recommend no more than six for an entire show, or three "back to back".
...and a couple of guidelines...
If you're enabled for General Run (programmatic) ads, we'll automatically add a pre and post roll slot on top of that: so you don't need to add slots right at the start or the end.
Advert placing is determined by a machine-learning-powered dynamic adserver that attempts to fill every slot. But its placement choices are based on supply and demand, including your show's "inventory" levels, how much demand is out there for that kind of show, so on and so forth. If you are consistently not getting any slots filled, please contact Support for advice.
Mid-roll points are meant to be placed throughout the main body of shows, and are sold to our advertising partners as such. Placing a stack of additional slots at the start or end of the show for extra "pre-rolls" or "post-rolls" isn't as effective and may annoy both listeners and advertisers.
If we see shows engaging in practices that could be construed as misleading, or inserting an unreasonable amount of ad slots per show, we will usually speak to you first, but we reserve the right to disable ad service immediately.